Registered Dental Hygienists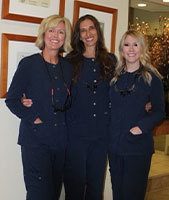 Corrie graduated from the University of Nebraska with a Bachelor of Science in Dental Hygiene. While attending the university, she met Dr. Carver, they were married and moved to Lake Havasu City to start their dental careers in 1994. She works part time, and spends the rest of her time being a mother to their 2 kids. She enjoys traveling, spending time outdoors, and going to sporting events. Most of all, she loves spending time with her family and friends.
A Registered Dental Hygienist since 1997, and with Dr. Carver since 2003, Athena is passionate about dental health education with her patients and within the community. A 2016 grant recipient of the American Dental Hygienist Association, Institute of Oral Health, she started a dental education program in Lake Havasu City for kindergarten students that has now extended throughout Mohave County. A wife and mother of 2 children, spending time with family and traveling, especially to Greece, is how she likes to spend her spare time.
Makenna is a recent addition to our practice. She attended Mohave Community College where she completed her dental hygiene degree, and she is currently a student at Northern Arizona University working on her bachelor's degree. She also serves on the board of the Arizona Dental Hygienists' Association. She is very dedicated and enthusiastic about dentistry, and loves educating her patients to help them achieve their best oral and overall health, as well as forming great relationships with them.
Spending time with her soulmate, family, friends and fur babies is her pride and joy. She enjoys being an aunt to an amazing niece and nephew and loves watching them grow.
---
Registered Dental Assistants
A Registered Dental Assistant since 1991, Marylou married her high school sweetheart and moved here in 1994. They have 3 sons who are active in sports. She is devoted to her church, loves Jesus and Elvis. She has been with Dr. Carver since 1995.
Cheryl joined the team in 2018. Being in the profession for 30 years, she has a great passion for dentistry. She enjoys spending time with her husband of 29 years, visiting family & friends, traveling and water sports.

---
Front Office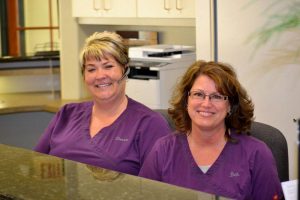 Front Office Administrator Cherrie moved here with her high school sweetheart husband in 1997, and started working for Dr. Carver soon after. They have 1 daughter. Two cats and a turtle round out her family. In her spare time, she enjoys being in the sun, either in her backyard or at the beach, with her best friend and family.
Beth has been Dr. Carver's Office Manager since 1995. She is married and has 2 sons. She enjoys boating, offroading, and camping with her family and loves to read.